Coronavirus COVID-19 Asheville Arthritis Statement
Asheville Arthritis & Osteoporosis Center is monitoring the evolving outbreak of coronavirus (COVID-19) carefully.
Appointments at our office during the coronavirus (COVID-19) outbreak:
All patients visiting Asheville Arthritis for doctor appointments, labs, radiology and/or infusion will be screened for possible coronavirus (COVID-19) infection. If you have a fever, respiratory symptoms, close contact to a person with fever or respiratory symptoms, any contact with a person with coronavirus, or history of travel to an area with significant coronavirus infection, you will be asked to return to your car for phone conversation with our staff. If any of these apply to you, we encourage you to contact us before coming to your appointment. Unless absolutely necessary for patient care, patients coming to Asheville Arthritis should not bring family members or friends to their appointment. We continue to provide infusions and obtain labs and radiology studies, though we are taking extra precautions to insure patient safety.
We are now using telehealth virtual visits for most recheck patient visits if patients have good internet access on their smartphone or other electronic device that has a camera, so contact our office to schedule a telehealth visit in place of an in-person recheck visit. Medicare and most private insurances are now covering this option during the coronavirus epidemic. If you are not already using our patient portal, now is a good time to sign up.
Recommendations:
Hand washing after exposure to public spaces and before eating or touching face, mouth or eyes is an important preventive measure. The CDC recommends frequent hand washing with soap and water for at least 20 seconds and after going to the bathroom, before eating, and after blowing your nose, coughing or sneezing. Alcohol based hand cleaners with >60% alcohol are also effective, though soap and water are recommended if hands are visibly dirty. Cleaning and disinfecting frequently touched objects and surfaces using a regular household cleaning spray or wipe can slow spread of infection.
We now recommend that everyone wear a face mask while in public during the coronavirus outbreak. Avoiding all unnecessary travel and public exposures is recommended for everyone including patients with autoimmune disease at this time. It is also recommended to avoid close contact with people who are sick. Most of our patients can continue working at this time, though working from home is advisable if this is an option. Some selected patients with severe disease may need to stay home from work altogether.
Patients with autoimmune diseases and/or taking immune modulating treatments including DMARDs and steroids are at increased risk of infection and may be at increased risk of complications should they contract a coronavirus (COVID-19) infection, though we do not have enough scientific data yet to determine the significance of this. Because autoimmune diseases themselves also carry significant risk to your health, and because untreated autoimmune disease may also put patients at increased risk of complications of coronavirus (COVID-19) infection, we do not presently recommend that patients on immune modulating treatment stop any of their treatments unless this is done in consultation with rheumatology.
If you develop a fever and/or respiratory illness, and you feel that you might have coronavirus (COVID-19), we recommend you contact your primary care physician by phone or portal to determine further care, or call your local health department if you do not have a primary care physician (Buncombe County: 828-250-5109). If you develop a respiratory illness, and you feel that you might have coronavirus (COVID-19), before you visit a health care facility including any doctor's office, an urgent care, or emergency room (by appointment or by ambulance) you should notify that facility of your concern so that protective measures can be put in place. Face masks should be worn if you are potentially infected, but have little value to prevent infection if you feel well. Cover coughs and sneezes with a tissue, and throw tissues in the trash. If you develop a respiratory illness, after you discuss management with your primary care physician or other physician, you should contact your rheumatologist to determine whether you should change your rheumatology treatments during the illness.
Asheville Arthritis & Osteoporosis Center will continue to monitor the coronavirus outbreak and provide updates at www.ashevillearthritis.com. The CDC is a reliable source of information: https://www.cdc.gov/coronavirus/2019-nCoV/index.html. The American College of Rheumatology is also monitoring this outbreak: https://www.rheumatology.org/Announcements.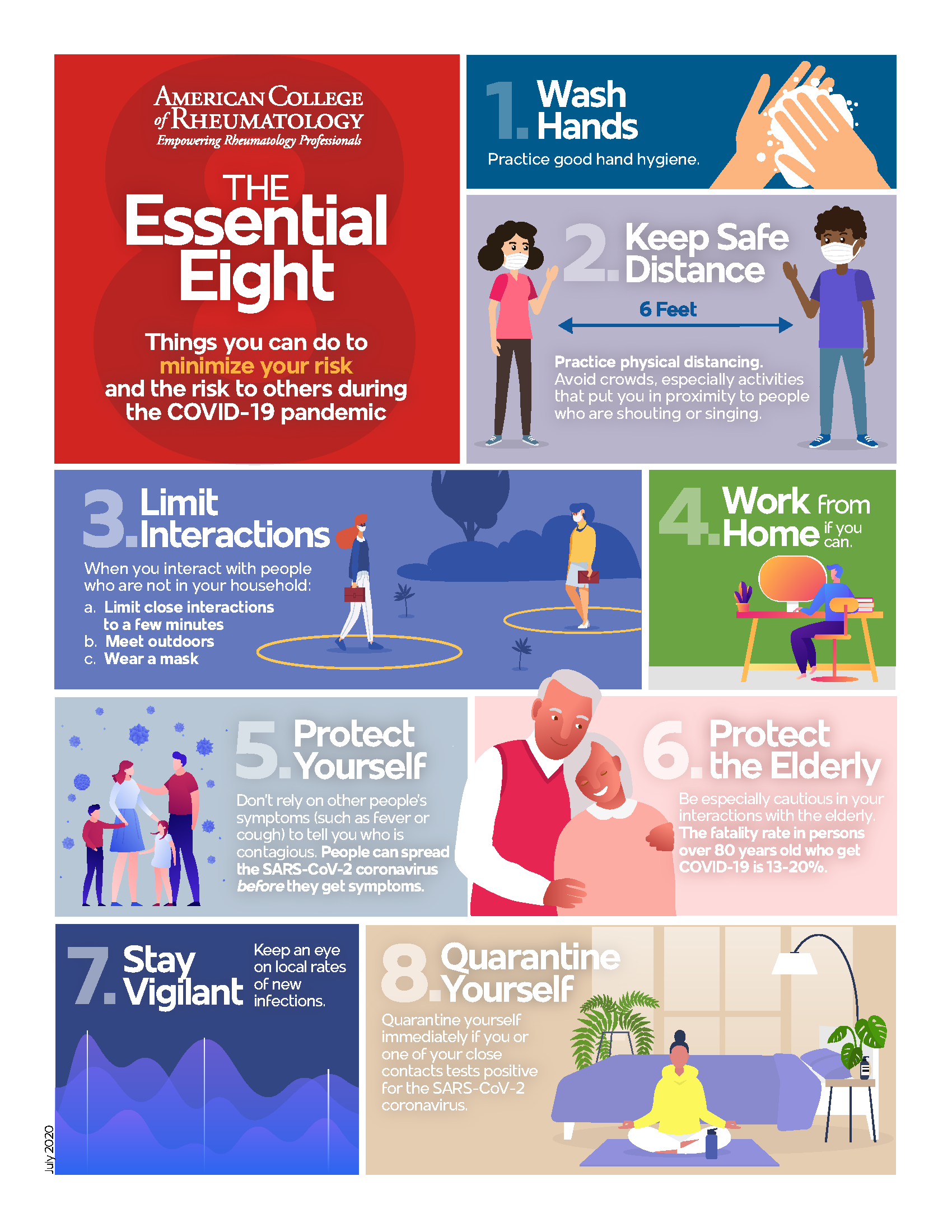 FDA issues statement regarding NSAIDs during coronavirus COVID19 outbreak: https://www.fda.gov/drugs/drug-safety-and-availability/fda-advises-patients-use-non-steroidal-anti-inflammatory-drugs-nsaids-covid-19
Rheumnow Public Service Announcement 1 – Managing Your Arthritis Medicines:
Rheumnow Public Service Announcement 2 – Your Medical Care:

Rheumnow Public Service Announcement 3 – COVID Safety Advice:

Rheumnow Public Service Announcement 4 – COVID Myths:
Rheumnow Public Service Announcement 5 – Dealing with Stress: