Coronavirus COVID-19 Asheville Arthritis Statement
Asheville Arthritis & Osteoporosis Center is monitoring the evolving outbreak of coronavirus (COVID-19) carefully.
Appointments at our office during the coronavirus (COVID-19) outbreak:
All patients visiting Asheville Arthritis for doctor appointments, labs, radiology and/or infusion will be screened for possible coronavirus (COVID-19) infection. If you have a fever, respiratory symptoms, close contact to a person with fever or respiratory symptoms, any contact with a person with coronavirus, or history of travel to an area with significant coronavirus infection, you will be asked to return to your car for phone conversation with our staff. If any of these apply to you, we encourage you to contact us before coming to your appointment. Unless absolutely necessary for patient care, patients coming to Asheville Arthritis should not bring family members or friends to their appointment. We continue to provide infusions and obtain labs and radiology studies, though we are taking extra precautions to insure patient safety.
We are now using telehealth virtual visits for most recheck patient visits if patients have good internet access on their smartphone or other electronic device that has a camera, so contact our office to schedule a telehealth visit in place of an in-person recheck visit. Medicare and most private insurances are now covering this option during the coronavirus epidemic. If you are not already using our patient portal, now is a good time to sign up.
Recommendations:
Hand washing after exposure to public spaces and before eating or touching face, mouth or eyes is an important preventive measure. The CDC recommends frequent hand washing with soap and water for at least 20 seconds and after going to the bathroom, before eating, and after blowing your nose, coughing or sneezing. Alcohol based hand cleaners with >60% alcohol are also effective, though soap and water are recommended if hands are visibly dirty. Cleaning and disinfecting frequently touched objects and surfaces using a regular household cleaning spray or wipe can slow spread of infection.
We now recommend that everyone wear a face mask while in public during the coronavirus outbreak. Avoiding all unnecessary travel and public exposures is recommended for everyone including patients with autoimmune disease at this time. It is also recommended to avoid close contact with people who are sick. Most of our patients can continue working at this time, though working from home is advisable if this is an option. Some selected patients with severe disease may need to stay home from work altogether.
Patients with autoimmune diseases and/or taking immune modulating treatments including DMARDs and steroids are at increased risk of infection and may be at increased risk of complications should they contract a coronavirus (COVID-19) infection, though we do not have enough scientific data yet to determine the significance of this. Because autoimmune diseases themselves also carry significant risk to your health, and because untreated autoimmune disease may also put patients at increased risk of complications of coronavirus (COVID-19) infection, we do not presently recommend that patients on immune modulating treatment stop any of their treatments unless this is done in consultation with rheumatology.
If you develop a fever and/or respiratory illness, and you feel that you might have coronavirus (COVID-19), we recommend you contact your primary care physician by phone or portal to determine further care, or call your local health department if you do not have a primary care physician (Buncombe County: 828-250-5109). If you develop a respiratory illness, and you feel that you might have coronavirus (COVID-19), before you visit a health care facility including any doctor's office, an urgent care, or emergency room (by appointment or by ambulance) you should notify that facility of your concern so that protective measures can be put in place. Face masks should be worn if you are potentially infected, but have little value to prevent infection if you feel well. Cover coughs and sneezes with a tissue, and throw tissues in the trash. If you develop a respiratory illness, after you discuss management with your primary care physician or other physician, you should contact your rheumatologist to determine whether you should change your rheumatology treatments during the illness.
Asheville Arthritis & Osteoporosis Center will continue to monitor the coronavirus outbreak and provide updates at www.ashevillearthritis.com. The CDC is a reliable source of information: https://www.cdc.gov/coronavirus/2019-nCoV/index.html. The American College of Rheumatology is also monitoring this outbreak: https://www.rheumatology.org/Announcements.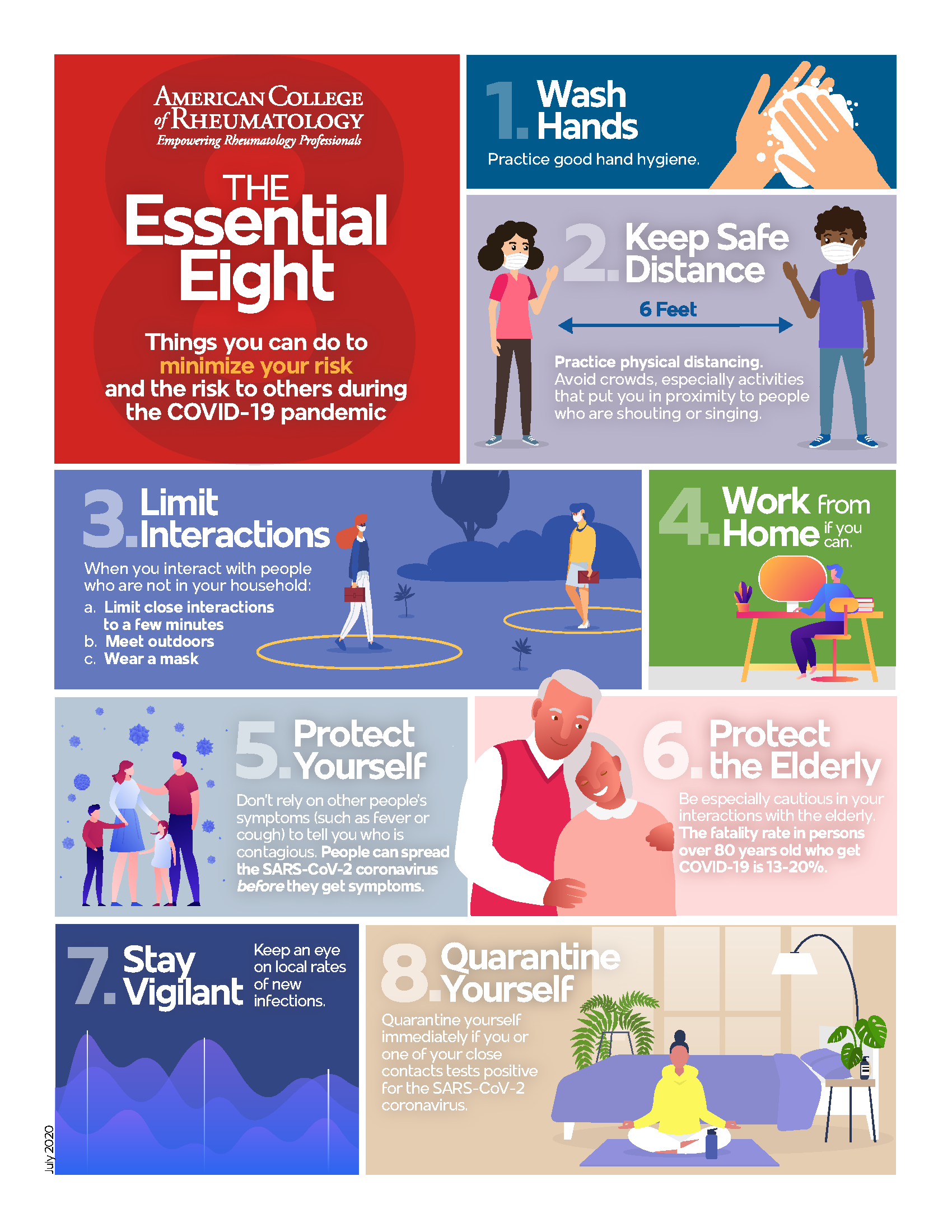 COVID-19 Vaccination
Asheville Arthritis continues to monitor the coronavirus COVID-19 outbreak. Unfortunately, case counts, hospitalizations, intensive care admissions, and deaths are climbing more rapidly in December 2020 than during any other time in the pandemic. We continue to emphasize the importance of wearing a mask, social distancing, and careful hand washing.
The physicians of Asheville Arthritis have reviewed safety and effectiveness data on the Pfizer/BioNTech and Moderna COVID-19 vaccinations. At this time we recommend that all our patients and our staff proceed with COVID vaccination with one of these vaccines as soon as one is available to them if they are not pregnant and if they are 18 years of age or older.  Patients 16-18 years of age should proceed with the Pfizer BioNTech vaccine. There is not enough information available at this time to comment on the effectiveness or safety in pregnant patients or patients under these ages, though consideration should be given for vaccination in these populations depending upon their risk of COVID-19 infection and complications. Our office will not have a COVID vaccine to administer, so please contact your local hospital, pharmacy, or health department to obtain. We recognize that there is limited data on the use of these vaccines in patients with autoimmune disease, and/or patients taking immune modulating treatments, and we recognize that the vaccine may not be as effective in these patients, but nevertheless we feel the risk of COVID-19 infection is much greater than the risk of the vaccines. Our physicians will continue to monitor safety, effectiveness, and other information from the Centers for Disease Control (CDC), the Food and Drug Administration (FDA), the American College of Rheumatology, state and local health departments, and other sources, and we will stay in communication with our patients with any changes to our recommendations.
Several vaccines are being developed, and they will become available as they are adequately tested and then manufactured. The vaccines will first be distributed by the state to local health departments, hospitals, and drug stores, with a goal to provide the vaccine first to those persons at greatest risk of infection and greatest risk to spread the virus. With time and more vaccine availability, all persons will eventually be able to receive the vaccine. The vaccines available to date are not live vaccines, and we believe they are safe for patients who are immunocompromised, take immune modulating medications, and/or have autoimmune disease. The vaccines do not contain preservatives, thimerisol/mercury, egg products, or fetal tissue. Adverse reactions to vaccines are always possible, but the rate in large scale studies of these vaccines is low at this time, and we believe the risk of COVID is much higher. In studies to date, about 10% of persons receiving the vaccines have low grade fever, headache or muscle aches. The symptoms seem to be worse after the 2nd dose and usually resolve by 24-48 hours. These symptoms are normal and are a sign that the body is building immunity.
Below is a list of frequently asked questions about the vaccines:
When and where do I get the vaccine?
The federal government, your state government, and local hospitals, health departments, and pharmacies are working together to provide the vaccine as quickly as possible to our nation. Please make use of the following websites to follow what phase of vaccine distribution North Carolina is in, and to determine where you might get the vaccine. If you live in another state, google your state department of health and human services or your local health department for local information.
NC Department of Health and Human Services Information on COVID vaccines:
https://covid19.ncdhhs.gov/vaccines
NC Department of Health and Human Services: Find a COVID vaccine location near you:
https://covid19.ncdhhs.gov/findyourspot
Buncombe County Health Department find your COVID vaccine location:
https://www.buncombecounty.org/countycenter/news-detail.aspx?id=19057
Is it mandatory that I get the vaccine?
No it is not mandatory. Currently there is not enough supply of vaccine to make this mandatory.
Will I have to continue to wear a mask?
Yes- the risk of silent infections among vaccinated volunteers continues to be studied and there will not be enough data collected until at least early next year. The thinking is that it may be possible for some people who are vaccinated to still spread the virus through silent infections.
Which vaccine are we getting so that I can do some research?
Pfizer and Moderna will be the first 2 released to the market. Healthcare workers & first responders are being given priority for vaccination as well as long term care staff and residents.
Do you know if they are preservative free like our preservative free flu vaccines?
Both Pfizer and Moderna vaccines will be preservative free. These vaccines are also free from egg protein. These are mRNA vaccines. This technology is new, but not unknown. They have been studied for more than a decade. mRNA vaccines do not contain a live virus and do not carry a risk of causing disease. Many vaccines use a weakened or inactivated germ in our bodies to trigger an immune response. mRNA teaches our cells how to make a protein –or just a piece of protein- that triggers an immune response inside our bodies. That immune response, which produces antibodies to the virus, is what protects us from getting infected if the real virus enters our bodies.
These vaccines were developed quickly, are they really safe?
The US vaccine safety system ensures that all vaccines are as safe as possible. Safety is the top priority while federal partners work to make the COVID 19 vaccines. Operation Warp Speed does not mean that manufacturers were able to "skip steps" in the vaccine process; instead after development of the vaccine, manufacturers took a secured risk and overlapped the Study, Manufacturing and Distribution phases. The FDA has committed to giving these vaccinations priority (not rushed) review at all phases of the studies. mRNA vaccines are being held to the same rigorous safety and effectiveness standards as all other types of vaccines in the U.S. Since mRNA vaccines aren't grown in eggs or cells, which is time-consuming and costly, these vaccines can be developed more quickly and easily. mRNA also does not enter a human cell's nucleus and is broken down by the body within a matter of hours, which decreases the potential of any long-term risks.
Is this a live virus vaccine- will it give me COVID?
None of the COVID-19 vaccines currently in development in the United States use the live virus that causes COVID-19. There are several different types of vaccines in development. However, the goal for each of them is to teach our immune systems how to recognize and fight the virus that causes COVID-19. Sometimes this process can cause symptoms, such as low grade fever, headache or muscle aches. These symptoms occurred in about 10% of people in the trials. The symptoms seem to be worse after the 2nd dose and resolve by 24-48 hours. These symptoms are normal and are a sign that the body is building immunity.
How long will immunity last after receiving the vaccine?
Current COVID vaccines require 2 injections 21 to 28 days apart. Long term immunity from this initial vaccination series remains to be seen based on long term follow-up data. Trials will continue to follow participants to determine the answer to this question. However, fairly lengthy immunity looks promising.
If I have already tested positive COVID- do I still need to get the vaccine?
Due to the severe health risks as well as long term unknown risks (neurological and respiratory side effects have been seen months post infections) associated with COVID-19 and the fact that re-infection with COVID-19 is possible, people may be advised to get a COVID-19 vaccine even if they have been sick with COVID-19 before. At this time, experts do not know how long someone is protected from getting sick again after recovering from COVID-19. The immunity someone gains from having an infection, called natural immunity, varies from person to person. Some early evidence suggests natural immunity may not last very long.
Should I wait to see if others have adverse effects before I get the vaccine?
The best vaccine to get is the first one available to you as soon as you can get it. In order to get life back to normal and to decrease the risk of COVID for you, your family, and loved ones, it is necessary to vaccinate as many people as possible as soon as possible. Hundreds of thousands of people have received COVID vaccines in trials. Pfizer has studied over 50,000 participants and Moderna over 30,000 and counting. Side effects are generally mild and manageable. Immunity has been consistently high with the vaccines showing over 90% effectiveness in preventing the disease. Achieving efficacy rates over 60% is a good response especially with a new disease that does not have good treatment options and a death rate average of 1.7%. We probably know more about the vaccine due to studying them in more detail than we do about COVID-19.
Why would I want to get the vaccine if the effectiveness rate is not 100%?
Just like with the flu vaccine, your antibodies to the virus increase when you get the vaccine. However, unlike the flu vaccine, the COVID vaccine is more specific to the virus. The mRNA vaccine actually incorporates part of a protein to help your body recognize the SARS-CoV-2 virus as soon as it sees it. And the antibody levels build over the first month, and then after the second injection continues to build even higher. In the Pfizer vaccine study, only 10% of patients who had COVID received the vaccine. And of the patients who had severe cases of COVID, they all received placebo and not the vaccine. For the Moderna vaccine, of the 95 patients who had COVID, 90 of them received placebo and 5 had received the vaccine. Of the 11 patients who had a severe case of COVID, all of them were in the placebo group. So even if you are the rare person who gets the vaccine and then also has COVID, you are likely to not have a severe case of COVID.
Will the vaccine work against multiple strains of COVID?
It is too early to be worried about strain variation. This is mainly due to the make-up of the vaccine. The COVID vaccine is presenting several different sites on one of the surface proteins of the virus where antibodies can be formed. That is different from a typical antiviral drug which just has one target. Also, while the influenza virus mutates relatively quickly, the coronavirus mutates more slowly (about half the rate). There is a potential for a change in the vaccine effectiveness rate if receptor binding is significantly affected by mutation, and scientists are monitoring for those mutants. It is estimated it will take the virus a few years to mutate enough to significantly hinder a vaccine.
References:
https://www.cdc.gov/coronavirus/2019-ncov/vaccines/index.html
https://www.fda.gov/emergency-preparedness-and-response/coronavirus-disease-2019-covid-19/covid-19-vaccines
https://www.cdc.gov/coronavirus/2019-ncov/vaccines/different-vaccines/mrna.html
https://www.gbs-cidp.org/covid-19-vaccines-and-the-gbscidp-community/
More information:
North Carolina Department of health and Human Resources COVID-19 Vaccination information: https://covid19.ncdhhs.gov/vaccines
CDC COVID-19 Vaccination Information: https://www.cdc.gov/vaccines/covid-19/index.html